The 8-Megapixel DSC-F828 CyberCam ...Ongoing... 2/22/04
It's big, it's mean. It's FAST!
Notes on the DSC-F828: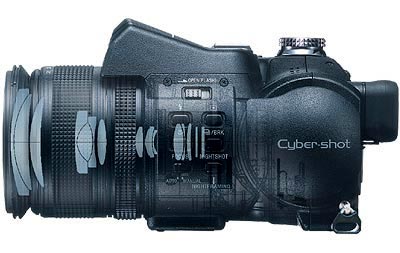 Holding the 828, it strikes you that this camera is an ergonomic tour de force. Controls land where you want them to be, and the big zoom lens works through a direct mechanical link. You can even zoom DURING an exposure for interesting results.
Its all black, matte finish makes it look serious, even a little sinister, and improvements to shutter response make it fast to shoot with. It is perhaps the fastest responding compact digital camera ever.
The new image chip uses an RGBE sensor that replaces one of the green sensors with an "Emerald" one. Color perfection is achieved by slicing the spectrum into four samples instead of RGB's three. And the color accuracy of the camera is phenomenally good; better than any other compact digital out there.
About the same size, though a little heavier than the 707/717s, the 828 carries well on the shoulder and enjoys the same EVF + Monitor arrangement of those cameras. The monitor is usable in direct sunlight without actually appearing "transflective." The inner EVF image is okay for viewfinding, but if all of them look the way mine does, it's a pretty poor color image, actually--far less correct looking than the ones on the 707/717 in my kit.
Image control includes the V1's Contrast adjustment which effectively extends dynamic range giving a more film-like look without requiring exposure alteration (are you listening, Nikon?). The REAL color mode is a controlled, pulled back representation that gives technically accurate results while the Normal color mode gives more perky color results similar to most other digicams.
HQ Movies
It has a new movie mode delivering VGA frames at 30 fps (providing you have a Memory Stick Pro inside: 256MB = 3 minutes) and it's the first Sony to use CompactFlash Cards as well as memory sticks. With the right combo, you could pack 9 gigabytes of memory on board! (CF cards recently crossed into the 8-gig zone.)
Speed
Shutter lag, a function of the crossover sequence of the chip transitioning from live imag to shooting image modes, is virtually gone in the 8-meg chip. Now the only hang-up is in the Auto Focus system, and with the camera in Manual Focus, there simply is NO lag.
But Auto
Focus is fast, contributing to the lack of shutter lag.
ISO Noisy
ISO speeds range from 64 to 800, but you probably won't like the look of ISO 800. It seems that the 828 has a flaw: its image chip is noisy.
Far noisier than the ones in the 707/717 or V1. Funny, its smaller, denser sensors are the same size as those on the V1's image chip, but the 828 is quite grainy in comparison.
Is it something the firmware can address? Gosh, I hope so, because that can be inserted into the camera via code distribution over the Internet. Shooting at ISO 64/100/200 gives great looking images, however, and with a bit of post-exposure noise reduction, you can achieve fine shots from ISO 400. ISO 800 is only good for very small (1M or VGA) shots or as an artistic "grain boosted" effect.
Even at ISO 100, shadow areas of images are pretty gritty compared to most 5-meg cameras. Looks like a job for iNovaFX. And indeed, the Version 2.0 Sony eBook has special Photoshop Actions to help with this, tuned to the 828's unique needs.
Smart ? Zoom
Most of its features parallel the 707/717 and a few show up from the V1. Still others show up in a different form, the Smart Zoom feature, for instance. You may remember that Smart Zoom in the V1 only magnifies the image up to the size of a crop from a full frame shot when shooting with any of the several smaller frame/file sizes. At less than full zoom, that makes the smaller images better in their pixel-perfection because they get some benefit from down-sampling. The V1's Smart Zoom only kicks in after the optical zoom range has been traversed, meaning that you get the full wide zoom plus some extra tele Smart Zoom at the top end.
In the 828, it does this magnification effect all the time, at every zoom position, achieving zero benefit over simply making that crop. Where the V1 only arrives at "crop quality" at full tele, the other zoom settings having benefited from down-sampling (thus becoming more pixel-perfect) the 828 simply applies the inverse magnification of its smaller file size to all images when Smart Zoom is in effect. Net result: so what.
The smartest thing about the 828's zoom is the manual zoom ring. Now that is smart, indeed, leading to fast framing, composing and shot acquisition. In a fraction of a second, you can zoom the entire 7X range to home in on your shot. This feaure is nearly worth the price of the camera and it turns the 828 into a professionally handling machine!
Precision Zoom, an alternative digital zoom option, delivers a straight 2X blow up at all file sizes. And with it switched on, improved pixel quality only shows up at all zoom settings with the 1M (1280 x 960 pixel image) and VGA (640 x 480) size frames.
Night Moves
Like the Cyber-shot cameras before it, the fabulous NightShot, NightFraming and subsequent infrared shooting capabilities are inherited and the coverage of the IR illuminator has been improved.
Unfortunately, Sony has not chosen to abandon the practice of crippling the NightShot's shutter speed and aperture settings for greater IR shooting flexibilities. You get 1/30 sec at f/2-2.8 as your briefest exposure, meaning that no IR shots of fast moving subjects is available.
The story behind this, in short form, is that under IR light in sunlight, the shadowy presence of nipples can show through some fabrics, provided the man or woman pictured is not wearing undergarments. Big deal. But a vocal cadre of prudes pushed Sony to excise this IR daylight capture feature from their video and still cameras. Meaning that for IR shooting, you need to buy ND and/or IR filters and accept the slow 1/30 sec shutter speed at f/2. If you are so inclined, you can now see every nipple you want. Which is also the case with IR film over the last 70 years, but that's another story.
Four Scene modes, an intelligent hot shoe, firmware update ability in the privacy of your own home, RAW shooting mode, flexible spot auto-focus zone, Program exposure mode shift (equivalent exposure selection) and seven-shot "motor drive" fast image capture round out the new features.
RAW Power
Sony's included RAW interpreter is low tech in two ways. Windows only, and basic. Photoshop CS now has an included interpreter that is high-tech and works with Windows and Mac. (Mac computers, if you hadn't noticed, are the graphic arts industry, image manipulation industry and high technology industry growing professional platform of choice. But I digress.)
With RAW image file format comes a huge new boost to image power. The 707/717/V1s can't touch it. The shot is a 12-bit lift of the image chip's observations, not an interpreted result. The fullest range of the image chip is preserved in 4096 slices of tonality --per pixel! Truly a digital negative. Along with the RAW file, you get to choose the size of a reference JPEG file to be recorded along with it. That JPEG can be a full frame, Fine quality, Real color shot if you wish, or a VGA, Normal compression small reference frame.
Images translated from RAW are immensely better, providing you know how to work with them. The Photoshop CS interpreter (released 2/12/04 by Adobe) even lets you tweak chromatic aberrations (!) before you let go of the image. With it you have control over noise, exposure, contrast, highlight and shadow detail, color white balance and tint, sharpening, saturation and an extra set of super tweaks that will land your jaw in your lap.
The downside (and there are two); it takes from 10 to 20 seconds to transfer the image into your Memory Stick (Pro sticks are faster) and then there's the time it takes to open the file through the translation utility. But, OH, what an image!
Downside #2: File size. You can eat up 16.5 megs for the RAW and 3.5 megs for a full frame reference shot with each exposure. Say good bye to 20 megs at a single click.
What Doesn't It Have?
That Smart Zoom thing is a minor disappointment. I rarely am tempted to use digital zoom at all. And the 828's per-pixel detail is notably improved over other cameras.
White balance does not manually lock into colors that lie outside the standard color temperature range. Meaning that Preset WB (manually set WB) works fine for incandescent, daylight, cloudy and shady situations, but it won't let you shoot under extremely color-contaminated lighting with more natural looking results the way the 707/717/V1s all do. And it won't pick up on the iNovaFX color patches included with the eBook for color filter effects. However, the Auto WB shows that the camera can work with extremely color-contaminated situations and give better results. Use that mode, not the manual route. Where this hurts constantly is in trying to lift images off the whacked results that TV and computer screens present. You probably will not be able to pull a manual WB off your TV or laptop since their white color is so far divergent from the mainstream.
I'm saddened by the lack of NightShot's ability to become an IR daylight-shooting camera. By further crippling this 828 to a 1/30 sec fastest exposure in NightShot mode (the V1 is 1/60 sec), Sony is listening to a vocal minority of prudish idiots more than they are listening to photographers. Any voyeurs can buy ND filters, but a huge number of us would rather shoot IR images at decent shutter speeds and f-stops.
Review data is limited. You can see Shutter speed, Aperture, EV±, Flash, Histogram and ISO data, but you won't know if the picture was +Contrast, -Saturation, Real/Normal color mode or altered Sharpening until you examine the EXIF data on your computer.
Let's all hope that improved firmware leads existing 828s into the performance realms of at least the V1s because the noise floor of ISO 100 on the 828 is at least a full stop more aggressive that of the V1.
Come on, Sony. We're praying for a firmware update, here.
Features
Things that are in the 828 include:
Fast power up.
Fast Auto-Focus.
Shutter Priority exposure mode.
Aperture Priority exposure mode.
Manual Settings exposure mode.
TIFF images uncompressed.
Better yet: Killer RAW images saved with a JPEG of your choice.
Sharpening adjustment.
Contrast adjustment.
Saturation adjustment.
Standard or REAL color quality adjustment.
Fast Menu overlays and recovery to shooting mode.
Special effects of Sepia, Posterization and Negative Art.
Swivel body for exterior monitor positioning.
All-metal body.
58mm filter thread.
Long-life battery (2.5 to 4 hours per charge).
Tripod socket on center line of lens.
Extensive editing including Protect, Print and Delete functions.
Ergonomic design.
Quick review in camera mode.
NightShot using on-camera IR illumination and enhanced ISO along with imaging chip IR sensitivity elevation techniques.
Night Framing using a small laser projected holographic pattern that can focus on nearby subjects (think 10 - 20 feet or so) in complete and utter darkness.
Image size manipulation in-camera AFTER the shot has been taken.
Image cropping in-camera AFTER the shot has been taken.
Direct manual zoom control. This is SO cool!
Fast, 7-shot rapid fire sequence shooting.
Exposure bracketing.
Special fast-gathering "Multi-Burst" mode creates 16 VGA images on one frame. 7.5/15/30fps.
One-second start up time. Wow.
Improved battery time-on-station.
Expanded menus and Set Up.
Segmented (matrix) primary exposure metering.
Center weight metering option.
Tiny (!) and precise spot metering.
Flexible focus zones including small steerable focus area.
Audio notes attached to images option.
Internet image mode.
Live Histogram display of scene before exposure.
EVF --Electronic View Finder-- in addition to the exterior monitor.
Manual White Balance.
5-zone, 6-option focus selection system.
Super easy Full Auto system for novice users.
Dedicated button for Auto Exposure Lock.
Dedicated button for Exposure Meter type.
Dedicated button for Self Timer.
Dedicated button for Macro Mode.
Dedicated button for Flash deploy.
Dedicated button for EV+/-.
Dedicated button for quick review of last image.
ACC (essory) socket for external flash and remote control.
5X inspection of review images plus scroll-around.
Movie modes (3) with in-camera trimming.
Scene modes for Twilight, Portrait, Night Portrait and Landscape.
Manual focus-by-wire with distance read-out and instant magnification.
Beep or Ker-chunk shutter sound (or off).
Auto Pop-Up Flash.
Accessory Hot Shoe.
Accessory plug port for flash & remote trigger.
Provided tulip lens shade.